Why did you fall in love with your current home? What grabs your attention when you're looking for a new home? Chances are, it's some visual aspect. It's only natural. As humans, we are hard-wired to put a lot of emphasis on what our eyes tell us about something. But when it comes to buying a home, things we can't easily see – like radon — can be just as important. Here's what Colorado homeowners need to know and do.
What is Radon?
Radon is a naturally-occurring gas that is invisible, odorless, and tasteless. It comes from the decay process of elements such as radium, thorium, and uranium. These elements occur in rocks and soils worldwide. In certain areas, such as Colorado, the soils contain a higher percentage of these elements.
Why is Radon a Concern?
Because radon is a gas, it's easy to inhale. Because it's nearly impossible to detect without special equipment, it's easy to be unaware of its presence. And because it's radioactive, it is a health hazard. According to the
United States Environmental Protection Agency (EPA)
:
"Radon is the number one cause of lung cancer among non-smokers, according to EPA estimates. Overall, radon is the second leading cause of lung cancer. Radon is responsible for about 21,000 lung cancer deaths every year. About 2,900 of these deaths occur among people who have never smoked."
Does My Home Have Radon?
The short answer is, "Probably." Every county in the Denver metro area and all along the Front Range is in the EPA's "Zone 1" for radon. This is the highest designation, indicating predicted average indoor screening levels greater than 4 pCi/L (picocuries per liter).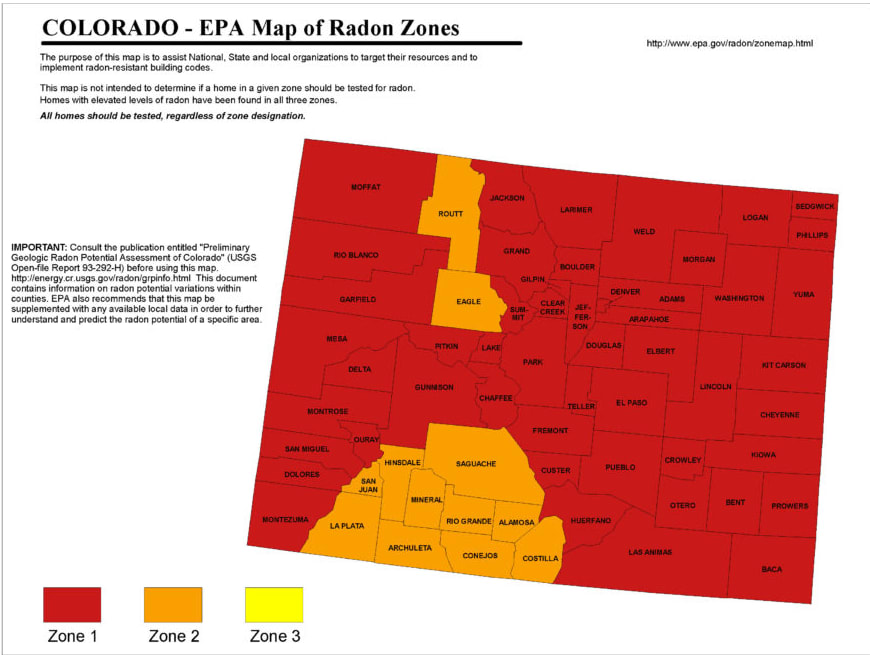 Cracks in solid floors (e.g., poured concrete slabs).


Construction joints (where walls and floors meet).


Cracks in walls (such as from settling due to Colorado's expansive soils).


Gaps in suspended floors (between lower and upper stories).


Gaps around service pipes.


Cavities inside walls.


The water supply.
Radon is a dense gas, which means it tends to settle in the lowest points of a building. It's found most commonly in basements and crawl spaces, but the EPA and the Surgeon General recommend testing all homes below the third floor.
If You're Selling or Buying a Home
Having the results of a recent radon inspection provides security for both sellers and buyers alike. The good news is, testing is quick, easy, and doesn't cost much. You can pick up a do-it-yourself kit for under $20 at local hardware stores or order online. If the results indicate a level of 4 pCi/L or higher, contact a mitigation specialist ASAP. If the results are lower than 4 pCi/L but higher than 2 pCi/L, you may want to contact a testing company for a test that measures your home's average level over a 2-3 month period (I recommend
ACE Radon
). These tests typically cost $100-$500. If that reading is still high, you'll definitely want to pursue mitigation. Mitigation costs vary but are usually around $1,200 for a single-family home in Colorado.
Questions? Ask Me!
If you have more questions about radon and buying or selling a home, please give me a call at
(303) 204-6494
. If I can't answer based on my 15+ years of experience in this market, I'll put you in touch with a local expert who can.
SHARE THIS STORY