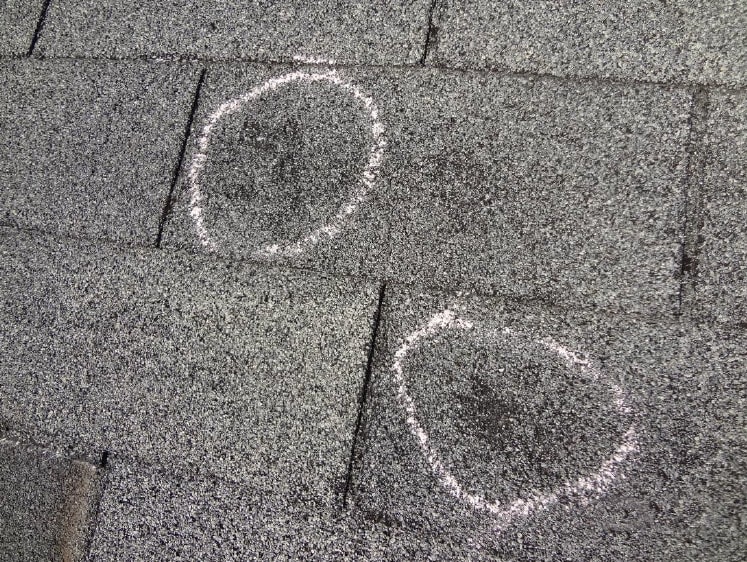 Credit:
modernremodelinginc.com
Thinking of listing your home as we approach peak home-selling season? Smart sellers get a roof inspection done early to avoid problems that could delay or derail the sale. The smartest sellers consider every aspect of the property before listing.
"Nah My Roof Doesn't Have Hail Damage"
I've had several listings recently with sellers who were certain their roofs didn't have any hail damage. "I had a roofing company inspect it last summer, and everything was fine. I don't need to do it again before I list the house," they said. Or, "I got up there and looked around, and I didn't see any problems."
Unless you've personally been up on the roof and know all the signs to look for, you as an average homeowner are rarely qualified to make that determination. The National Roofing Contractors Association recognizes that some homeowners will want to perform their inspections. Their "
Roof Assessment Guide
" advises homeowners to look for:
Buckled (bent/folded), curled, or blistered shingles (these are signs of damage and age).
Dings, dents, and other damage near chimneys, vent stacks, and other areas where a fixture penetrates the roof and enters the home (these can let in water when damaged).
Piles of shingle granules in your gutters or where your downspouts drain (granules help increase the shingles' wind resistance and also protect them from becoming brittle from ultraviolet rays).


What's at Risk if the Buyer's Inspection Reveals Roof Damage?
If you are a seller under contract and the buyer's inspection reveals roof damage, you have two choices:
You can file an insurance claim and gamble on the repairs being completed by the closing date; or.
You can offer the buyer a credit equal to the amount of the insurance payment. This becomes a closing cost credit for the buyer and reduces the amount the buyer has to bring to closing. If the buyer accepts the offer, the responsibility for the repair of the damage is transferred to them. Sometimes, the seller can put the repair money into an escrow account with the title company. However, lenders don't like this option and some will outright refuse this approach.


It's stressful to be in either of these situations. Here's why: you're not in control. If you file an insurance claim, you're at the mercy of the roofing contractor, their schedule, and the weather. If you offer the buyer credit, you have the uncertainty of whether they'll accept. The biggest risk is this: if the damages are not repaired before closing or if the buyer has not accepted credit by that time the buyer can terminate as late as the day of closing and get their earnest money back!
Smart Sellers Consider Every Aspect of the Property Before Listing
My professional advice as a Real Estate Agent since 2004 is this: take a good long look at every aspect of your property before you start the listing process. Yes, we are still very much in a seller's market in Colorado. That doesn't mean, however, that you can sell any property in any condition and expect to get top dollar. The market is really smart about settling at the appropriate price.
Need a Contractor for Home Repairs Before Listing?
If you need a referral to a roofing company, I recommend
4th Dimension Concepts
(phone:
(303) 750-4295
). If you need other kinds of contractors, I would be happy to share my preferred vendor referral list with you. You can reach me at
(303) 204-6494
– I'm always happy to help!
SHARE THIS STORY